Introducing the Pisgah Astronomical Research Institute 60th Anniversary Glassware Collection
A unique and limited-edition offering of celestial masterpieces that pay homage to the wonders of space and the night sky.  Crafted by local artists with a passion for artistry and astronomy, this collection has been carefully designed to commemorate the 60th anniversary of the original opening of the NASA Rosman Tracking Station, the home of the Pisgah Astronomical Research Institute (PARI).
Each piece in this collection is individually handmade and inspired by the vastness of the cosmos and the enigmatic beauty of celestial bodies.  The glassware captures the essence of stargazing and the sense of wonder it evokes.  From swirling galaxies and shimmering star clusters to dramatic nebulae and distant planets, the intricate patterns and colors on these pieces transport you to the depths of the universe.
Glass has long been our window to the cosmos, ever since it was first employed to create telescopes and reveal the mysteries of the night sky, and to store the images astronomers capture of their observations.  With this collection, we celebrate this enduring connection between art and science.  Each item is not only a stunning work of art, but also a reminder of the boundless inspiration that the universe provides.
These one-of-a-kind pieces will only be produced in limited quantities, ensuring that they are as unique as the stars themselves.  The patterns are exclusive to this anniversary collection and will never be replicated, making each a true collector's item.  By bringing a piece of the universe into to our everyday lives, this collection invites us to remember the sense of wonder and curiosity that space exploration has instilled in us for six remarkable decades.
Purchasing a piece is not only an opportunity to own a unique work of art, but also a way to directly support PARI's crucial educational mission.  Every sale from this limited-edition collection contributes to sustaining and expanding PARI's commitment to providing exciting and inspirational educational experiences to learners of all ages from our local community and beyond.
Your support of PARI through a purchase of these glassware pieces helps fund a wide range of educational initiatives at PARI.  These programs include hands-on workshops for students, immersive stargazing events, astronomy and space science camps, and engaging STEM education programs.  By acquiring a piece from this collection, you are not only receiving a beautiful and functional object but investing in the future of science education and helping us nurture a passion for exploration and discovery in young minds.  Help us make it possible for generations to come to marvel at the wonders of the universe and find their own inspiration among the stars.
Because these items are unique and fragile, be assured that the utmost care will be taken to get your items safely to you.  A representative will contact you after your purchase to arrange for pickup or shipping so you may choose the most convenient option that suits your needs.  If you choose to pick up, several locations and times will be available.  If you choose shipping, we will review with you your options and costs based on the items you have purchased.
Please don't hesitate to reach out as well if you have any questions or requests.  For example, if you are interested in a larger set than what is offered here, we will work with the artists to accommodate.
View Each Piece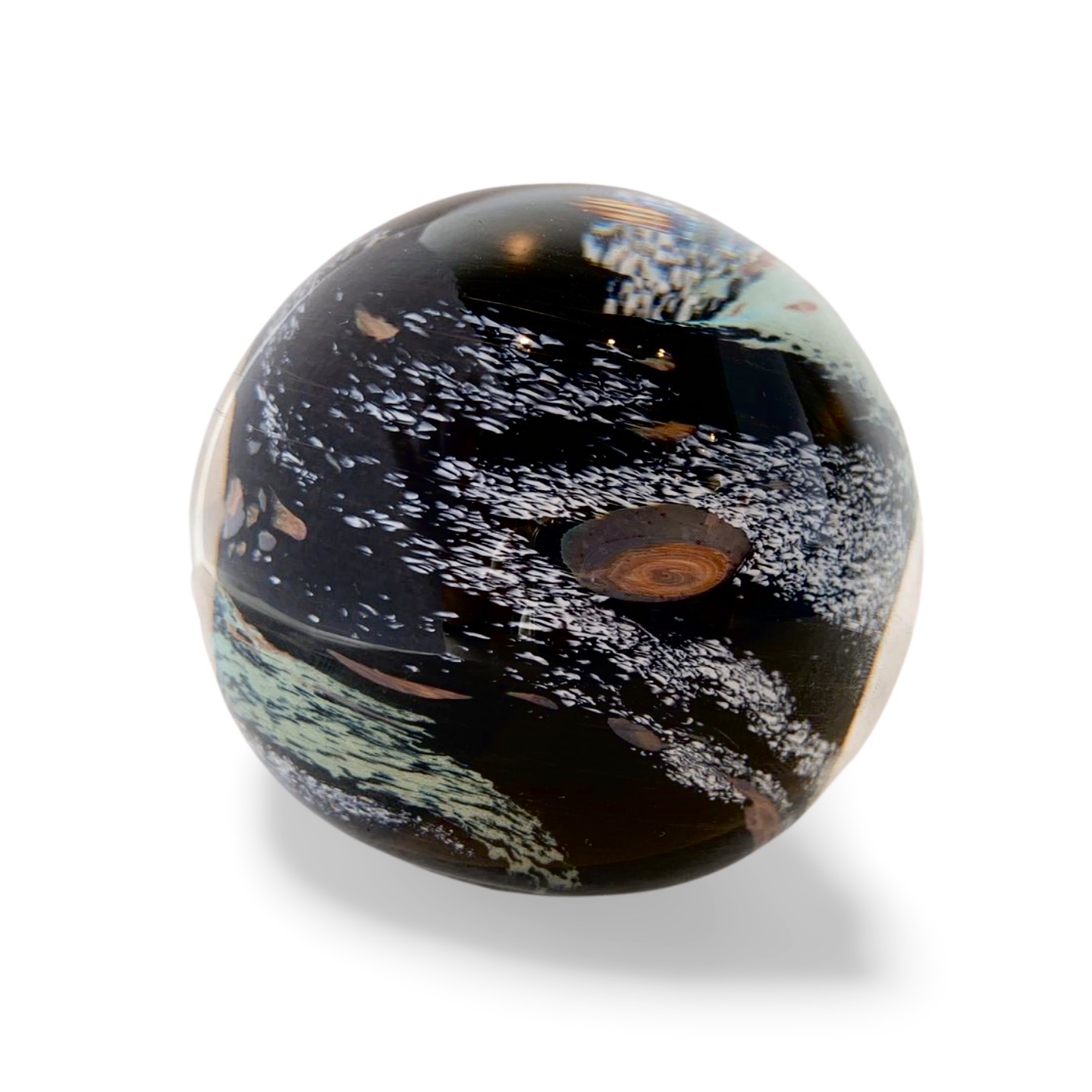 Paperweight by Hayden Wilson
$150.00
Purchase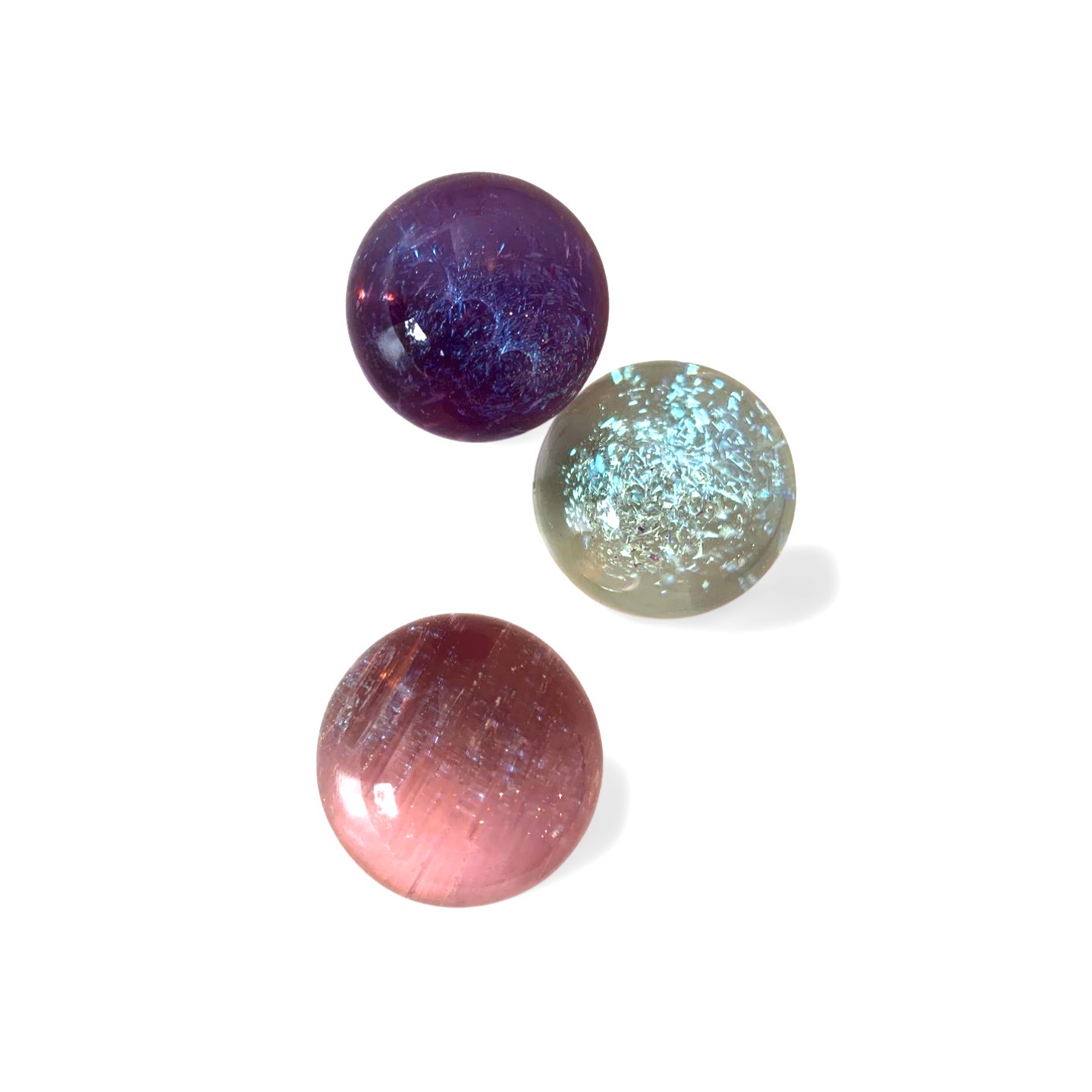 A set of three marbles by Max Trainque
$200.00
Purchase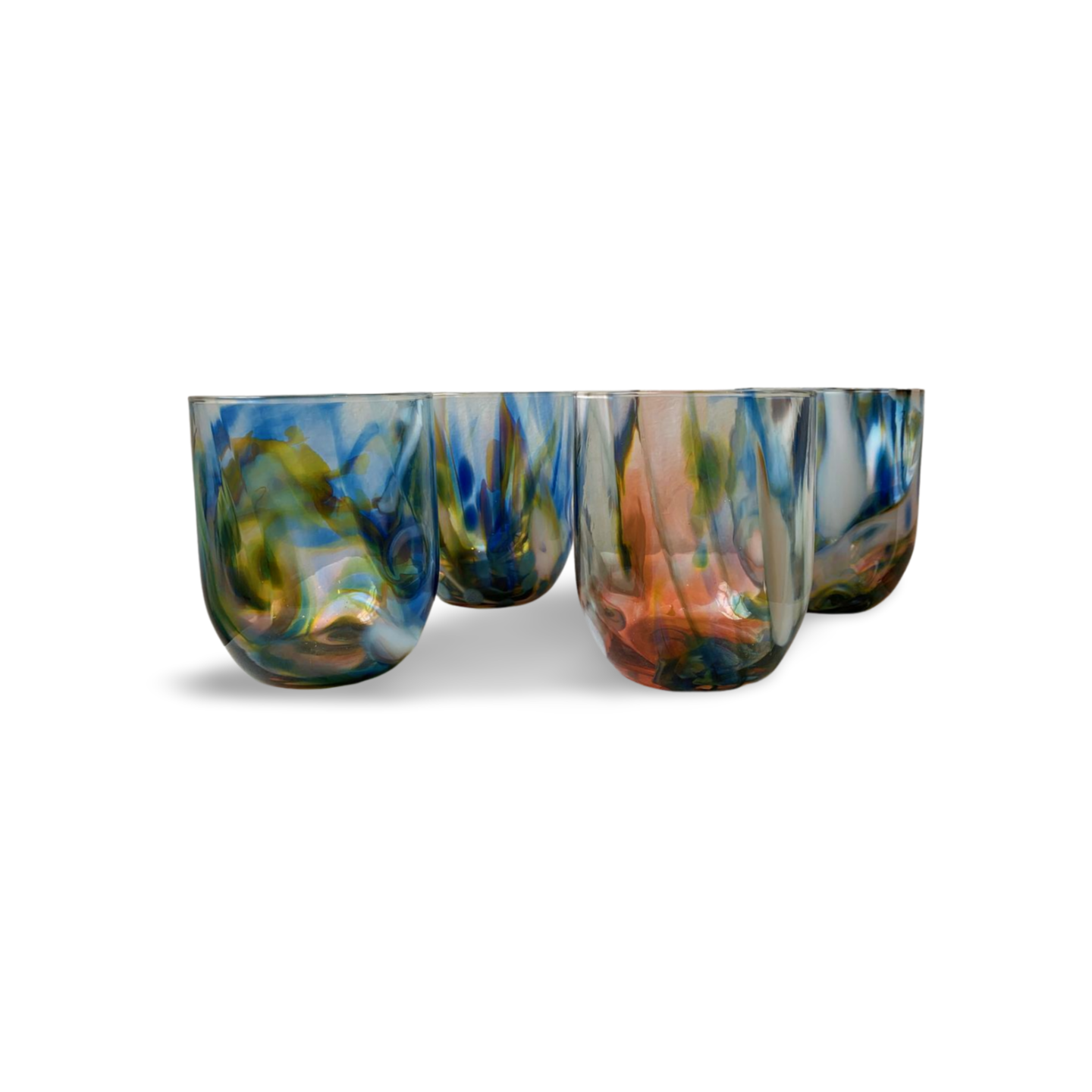 A set of four glasses by Kathryn Adams
$400.00
Purchase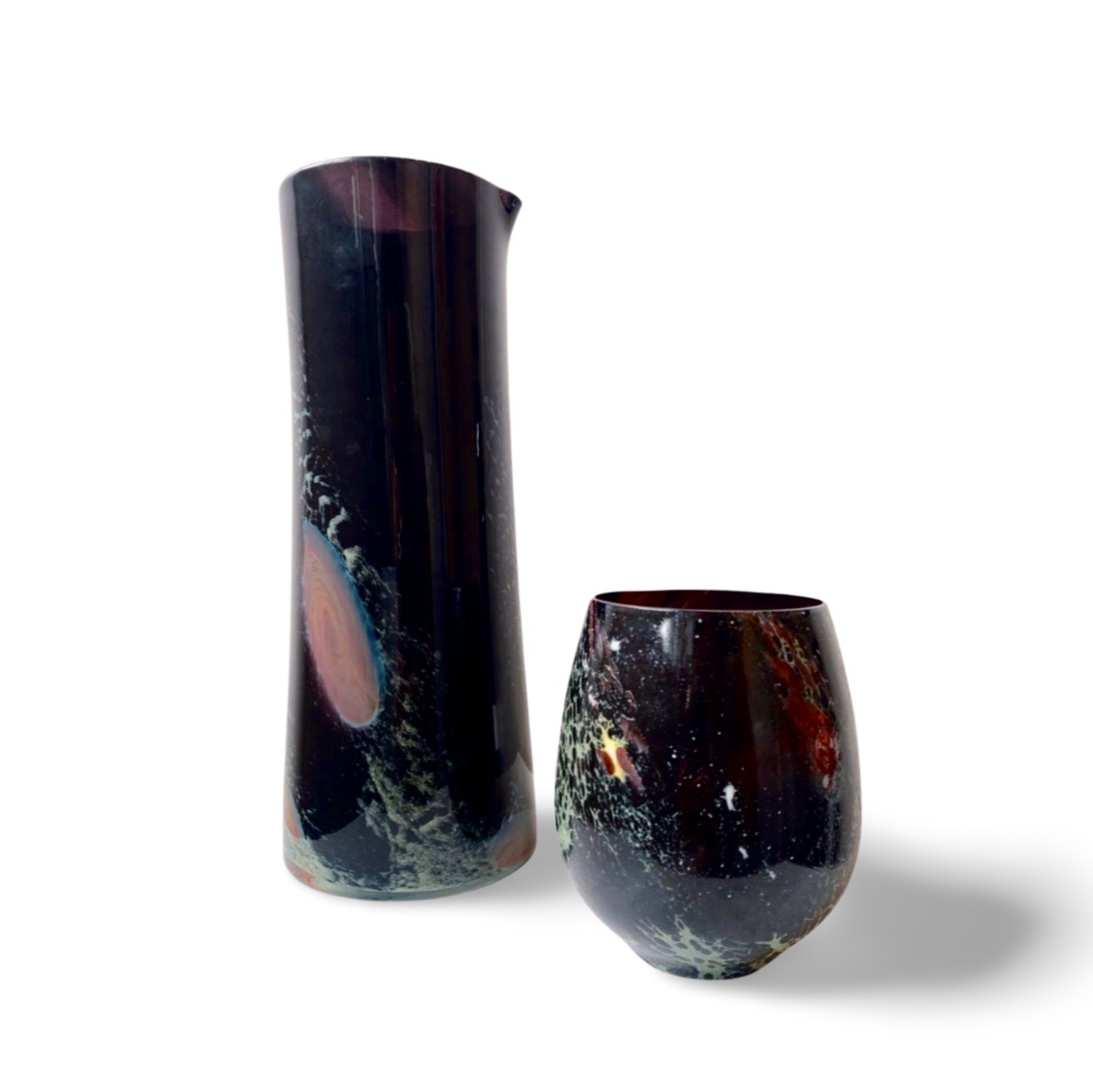 Pitcher and stemless wineglasses by Hayden Wilson. Comes with one pitcher and two glasses.
$600.00
Purchase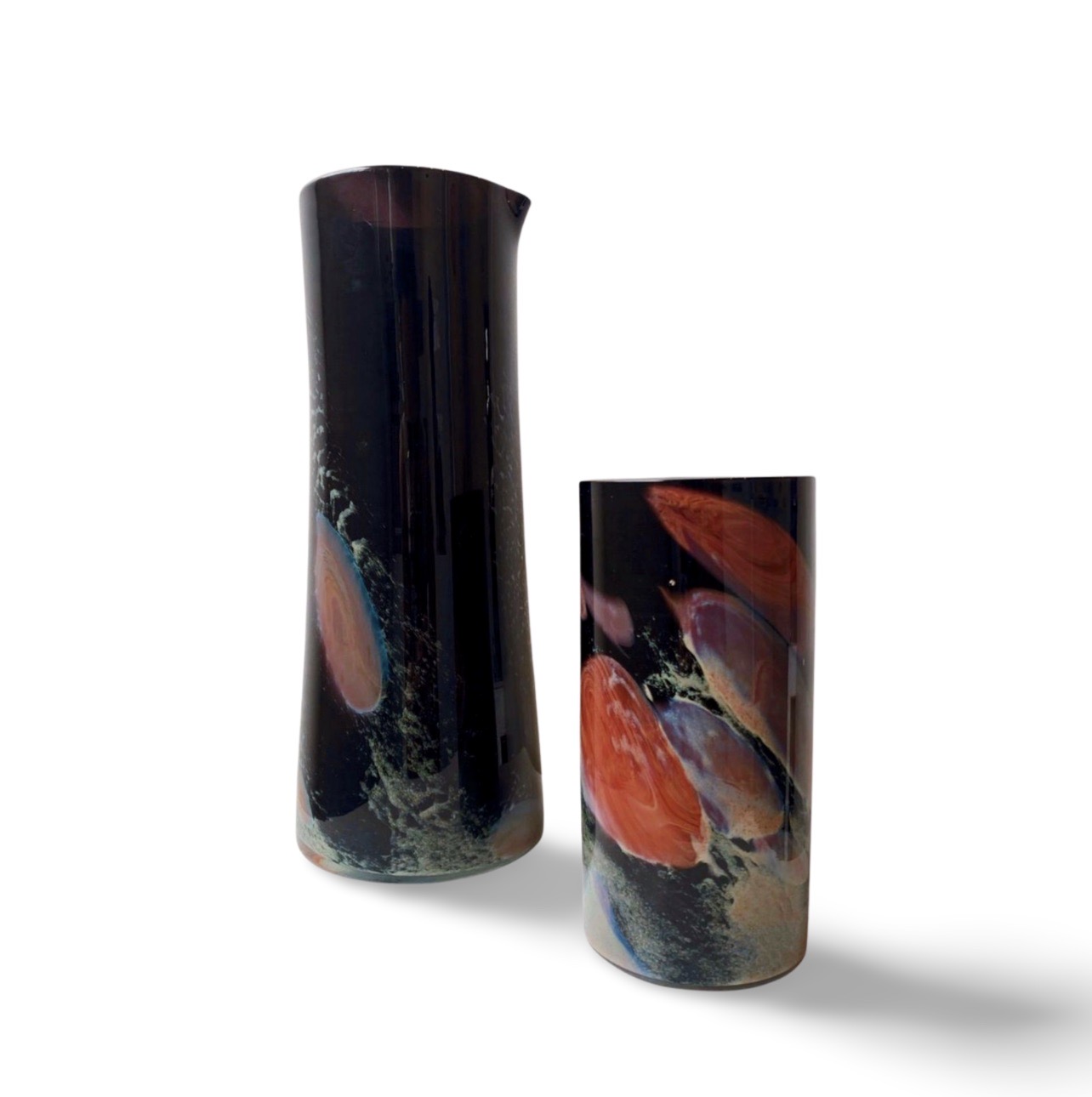 Pitcher and tall drinking glass by Hayden Wilson. Comes with one pitcher and two glasses.
$600.00
Purchase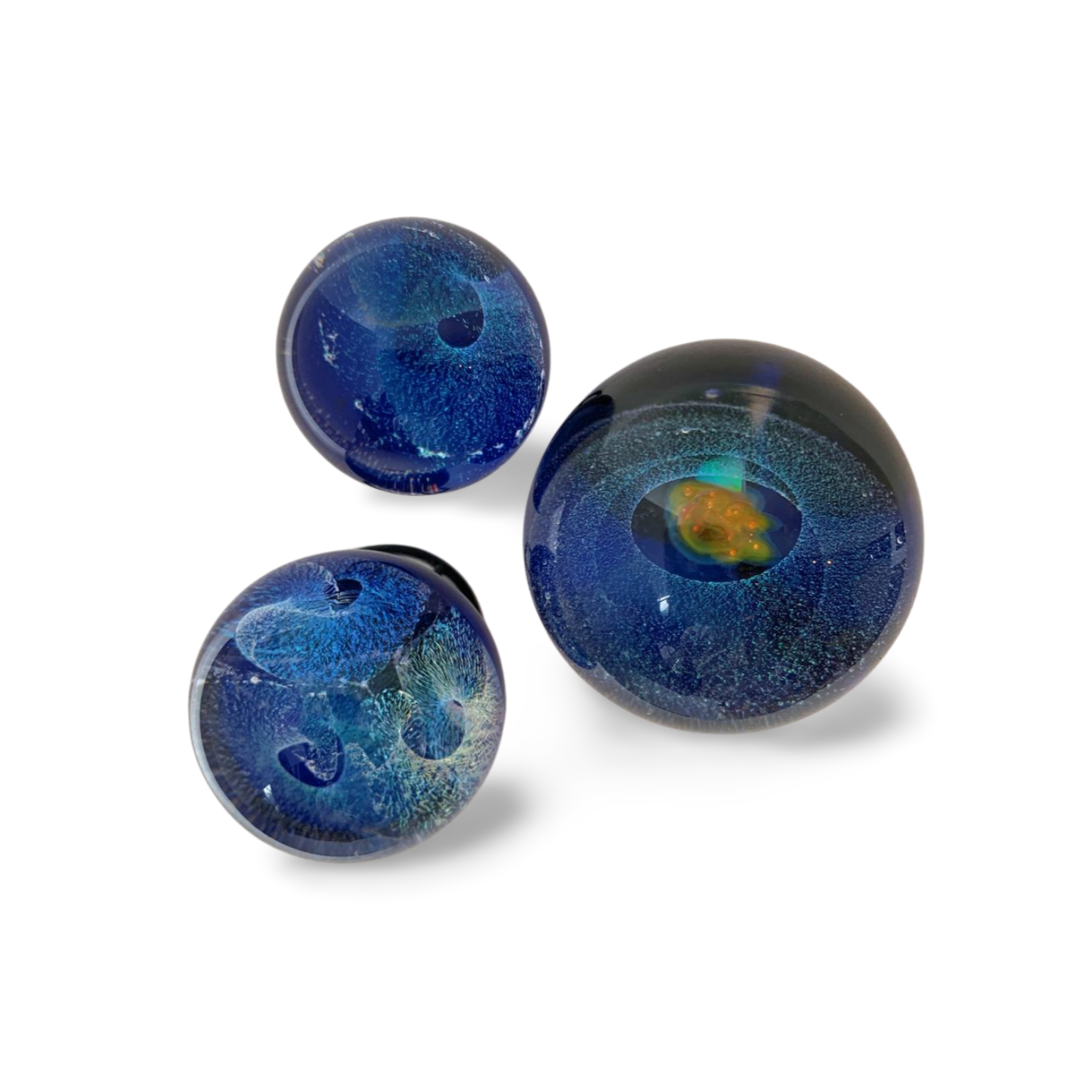 Set of three marbles by Wesley Thurston.
$700.00
Purchase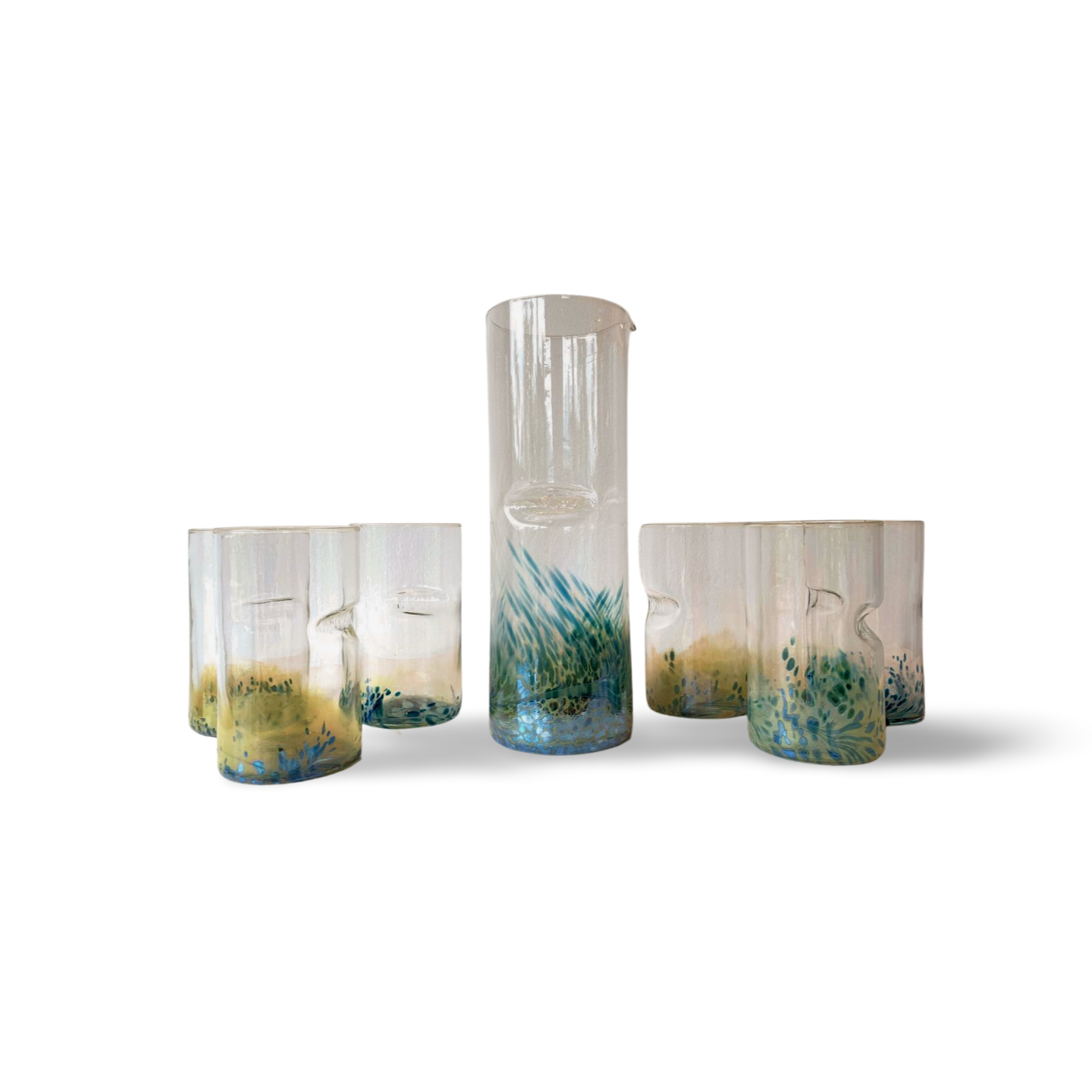 Set of six drinking glasses and pitcher by Haley Jelinek.
$800.00
Purchase
The North Carolina Glass Center is a non-profit, public access glass studio and gallery. Our low-cost shared studios help emerging artists launch their careers. Our furnaces, torches, and kilns enable established glass artists to pursue new and ambitious challenges. Our gallery showcases the finest work from undiscovered to established glass artists in Western North Carolina. Our educational programs provide thousands of aspiring glass artists with high quality, affordable instruction. Our community outreach programs provide safe spaces for veterans and low-income youth to learn the science and art of glass. These classes help participants express themselves in a positive, non-verbal manner while also building confidence and healthy coping skills.
NCGC provides a studio for everyone who is inspired to learn. Whether you are a student working with glass for the first time or an experienced maker looking to refine your skills, we have a space for you!
Learn about the artists behind each piece
Upon graduation from Alfred University, NY in 2011,
Kathryn Adams
enrolled in a class at Penland School of Crafts. This class introduced her to the Western North Carolina culture and thriving art community. Subsequently moving to Asheville in 2012, she immersed herself in Asheville's creative community. While honing her skills as a glass artist, she was also instrumental in the growth of the Asheville Glass Center's many maturations, filling roles such as Glass Instructor and Gallery Manager. Following that for 4 years she served as Operations Director of The North Carolina Glass Center. During this time she also devoted time volunteering with the River Arts District Business Association to help channel the growth of the River Arts District. Currently she is dedicated to being a fulltime artist that is passionate about working with clients to create custom glass to please and inspire their home environment. Her work focuses on lighting and other decorative elements, with the goal of showing off the inherent beauty of glass. Often using classic glass blowing techniques like encalmo to achieve clean modern lines and color combinations.
Haley Jelinek
received her Bachelor of Fine Arts in 2014 from Alfred University concentrating in glass and psychology. After graduation she received an emerging artist residency at Salem Artworks in upstate New York, where she worked on a multigenerational community arts project called Alzheimer's Glass and Iron. She has since helped to continue the project at Salem Art Works for a short residency every year. Haley has showcased her work throughout parts of New York and Pennsylvania. In 2015, she made a big move to western North Carolina where she continues to work in glass and sculpture. Haley Jelinek's work is inspired by the important relationship between humans and nature, offering functional glass with an organic feel.
Artist
Artist Wesley Thurston
creates glass sculpture that evokes the natural world. His experience growing up in the redwood forest, traveling, and scuba diving informs his artwork. Now residing in Asheville, North Carolina, Wesley enjoys sculpting a variety of forms, but finds the liquid nature of glass is particularly suited for creating aquatic forms. Wesley has studied at Corning School of Glass, Penland School of Craft, and Pittsburgh Glass Center with notable glass artists Micha Evans, Janis Miltenberger, and Chris Aholt, among others.
Max Trainque
has crafted glass objects from fire and imagination since 1999. He has taught and demonstrated a variety of glass working techniques throughout the country and internationally at locations such as the Worcester Center for Crafts, Sharon Arts Center, Kosta Boda, SnowFarm and the International Society of Glass Bead Makers. His work has been featured in galleries worldwide and he has learned from and collaborated with many esteemed glass artists in flame-working, hot shop and kiln working. He received his Bachelor's Degree in Sculpture from the University of North Carolina, Asheville and is a licensed K-12 art teacher. Max is skilled in many media, but his primary medium is glass, where the moment between beauty and tragedy is balanced between creativity and skill. His glass objects include jewelry, vessels, marbles, sculpture, lighting, murrini and functional items. A piece of his life goes with each object made and his hope is to offer a connection to the raw materials as they are transformed into something meaningful to both the maker and the viewer. Living and participating in the thriving art scene of Asheville, NC he is inspired to educate people and promote an appreciation for glass art.
Hayden Wilson
grew up in the mountains of Western North Carolina. As a second generation glass artist, he has been around glass his entire life but didn't focus on the material as a profession until after he graduated from the University of North Carolina, Asheville with a BFA in sculpture. Throughout his career he has played a dynamic role in the growth and support of the glass community in Western North Carolina. Hayden helped start and operate the Asheville Glass Center, working for 9 years as the Studio Manager and then as Studio Director when it changed to the North Carolina Glass Center. Hayden's work is represented across the country at galleries including Habitat Gallery in Royal Oak Michigan and Blue Spiral 1 in Asheville NC. With his vast knowledge of glass he often also works with clients to create custom glass and lighting for their spaces. Currently Hayden owns and operates a private glass studio in Asheville North Carolina where he creates his work, which varies from utilitarian designs and decorative vessels to one-of-a-kind sculptures.
You can read more about them on the artists page at ncglasscenter.org/artists